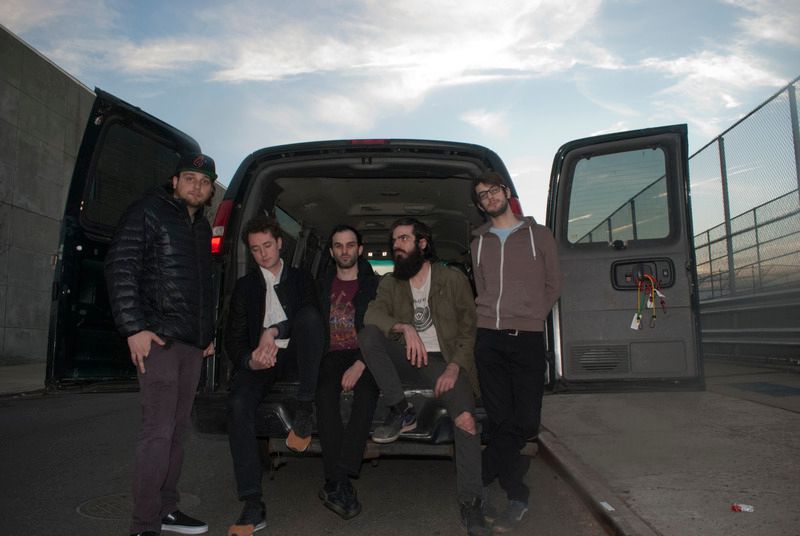 One month ago, the weary world rejoiced as the rock band Titus Andronicus (hereafter +@) unleashed their single "Dimed Out," and gazed, amazed, as The Most Lamentable Tragedy (hereafter TMLT, available July 28th from Merge Records) rocketed from its lowly status as a little-believed legend to the most anticipated rock and roll record of 2015.
Having heard cries so ravenous, from a human race so starved for real rock and roll, +@ has no choice but to unveil today the TMLT AROUND THE WORLD TOUR, which will deliver to hard-working / hard-rocking people everywhere the riveting show which has made +@, for years, a "can't-miss" live act to legions of fans.
To celebrate this grand unveiling, it is the pleasure of +@ to share with its much-loved constituency the second single, and first "official video," from TMLT – "Fatal Flaw."
The video was shot and edited by Jeremy Aquilino of up-and-coming Brooklyn psych-rockers Baked, a band whose 2014 dates supporting +@ provided the perfect opportunity to get "up close and personal" and offer fans a tantalizing taste of what they can expect when +@ makes their return to the stage this Autumn.
TMLT Across America commences September 11th in Philadelphia. For this adventure from sea to shining sea, +@ will be joined by longtime compatriots (and newly bonded Merge Records labelmates) Spider Bags, as well as the aforementioned Baked.
TMLT In The UK, commencing October 4th in London, will bring +@ overseas for the first time since 2013 for a string of dates in November. Following swiftly thereafter, TMLT In The EU will have +@ visiting France, Belgium, the Netherlands, and the only country to ever approve marriage equality by popular referendum, Ireland.
"+@ has been hiding away for too long," said singer-songwriter Patrick Stickles, breaking from an intense training workout. "It's time to get back out there – to take what is our's, and remind everyone why we have been champions of the stage for ten years."
See all the TMLT Around The World Tour dates, as well as the brand new "Fatal Flaw" video, at the newly revitalized official site of +@, TITUSANDRONICUS.NET
+@ TOUR DATES
Jul 24 – Brooklyn, NY – Shea Stadium [SOLD OUT]
Jul 25 – Brooklyn, NY – Shea Stadium [SOLD OUT]
Jul 26 – Brooklyn, NY – Shea Stadium [SOLD OUT]
Jul 27 – Brooklyn, NY – Shea Stadium [SOLD OUT]
Jul 28 – Brooklyn, NY – Shea Stadium [SOLD OUT]
TMLT Across America
Sep 11 – Philadelphia, PA – First Unitarian Church *^
Sep 12 – Washington, DC – Black Cat *^
Sep 13 – Richmond, VA – The Camel *^
Sep 14 – Carboro, NC – Cat's Cradle *^
Sep 15 – Atlanta, GA – Masquerade *^
Sep 16 – Nashville, TN – Stone Fox *^
Sep 18 – Dallas, TX – Trees *^
Sep 19 – Houston, TX – Walters *^
Sep 20 – Austin, TX – Red 7 *^
Sep 23 – Phoenix, AZ – Rebel *^
Sep 24 – San Diego, CA – Irenic *^
Sep 26 – Los Angeles, CA – Roxy *^
Sep 27 – Visalia, CA – Cellar Door *^
Sep 28 – Santa Cruz, CA – Catalyst *^
Sep-29 – San Francisco, CA – The Chapel *^
Oct 02 – Portland, OR – Music Millennium (in-store)
Oct 02 – Portland, OR Mississippi Studios *^
Oct 03 – Vancouver, BC – Biltmore Cabaret *^
Oct 04 – Seattle, WA – The Crocodile *^
Oct 05 – Boise, ID – Neurolux *^
Oct 06 – Salt Lake City, UT – Kilby Court *^
Oct 07 – Denver, CO – Marquis Theatre *^
Oct 09 – Minneapolis, MN – Triple Rock *^
Oct 10 – Madison, WI – Frequency *^
Oct 11 – Chicago, IL – Lincoln Hall *^
Oct 12 – Detroit, MI – UFO Factory *^
Oct 13 – Toronto, ON – Horseshoe Tavern *^
Oct 14 – Montreal, QC – Le Ritz *^
Oct 15 – Boston, MA – Brighton Music Hall *^
TMLT In The UK
Nov 5 – London, England – Village Underground
Nov 6 – Bristol, England – Thekla
Nov 7 – Brighton, England – Bleach
Nov 8 – Oxford, England – The Bullingdon
Nov 10 – Birmingham, England – Hare & Hounds
Nov 11 – Manchester, England – Deaf Institute
Nov 12 – Liverpool, England – Kazimer
Nov 13 – Glasgow, Scotland – Stereo
Nov 14 – Leeds, England – Beacons Metropolitan Festival
Nov 16 – Nottingham, England – Bodega Social Club
TMLT In The EU
Nov 18 – Paris, France – Mecanique Ondulatoire
Nov 19 – Opwijk, Belgium – Autumn Falls Festival
Nov 20 – Utrecht, Netherlands – Le Guess Who Festival
Nov 22 – Dublin, Eire – The Hanger
* with Spider Bags
^ with Baked
+@