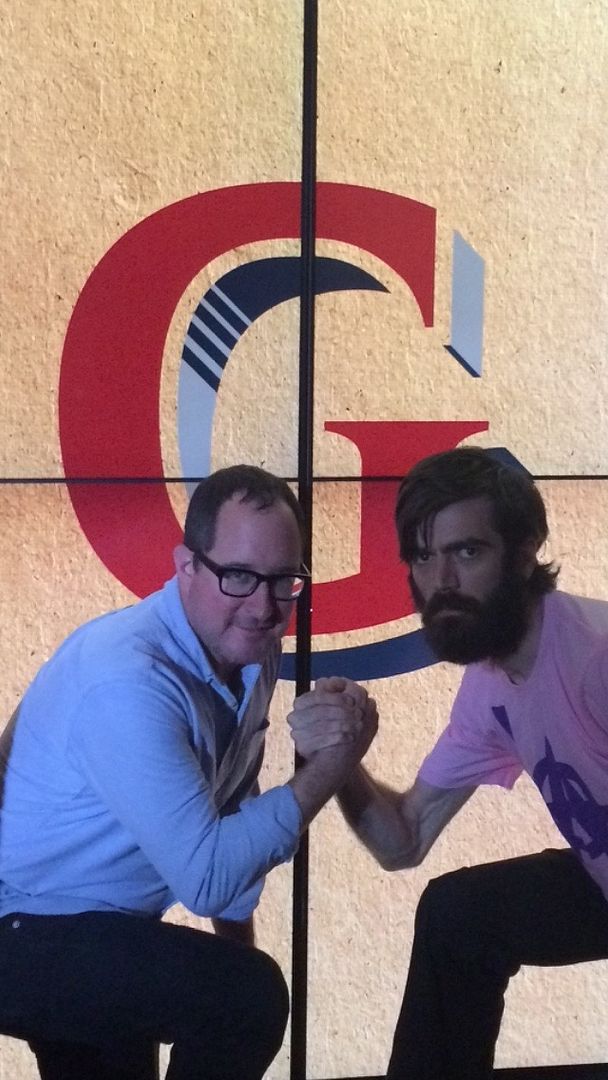 With 2015 drawing to a close and the world reflecting on the year that was, one tireless band is still looking towards the future : Titus Andronicus [ hereafter +@ ].
Even with July's historic 3xLP release The Most Lamentable Tragedy sitting unchallenged atop every reporting media outlet's list of 'The Longest Rock Operas of 2015,' +@ remain unsatisfied and so, today, they boldly reveal their plans for a string of American tour dates in the month of March.
For many, rocking through the incomparable experience of live +@ is as synonymous with springtime as dew on the blooming bud, but make no mistake : this will be a tour like no other, as +@ will be joined by legendary wordsmith Craig Finn, an esteemed mic controller beloved by countless devotees for his work with the Hold Steady and for solo efforts such as 2015's Faith In The Future.
"If I have one regret about 2015, it is that I didn't enunciate more," said +@ vocalist Patrick Stickles, in a rare moment of lucidity. "I will be grateful for the opportunity to observe the verbal dexterity of Craig [Finn], night after night, so that I might learn some valuable lessons from one of rock's great communicators."
Craig Finn had similar sentiments for his soon-to-be tourmates: "The best show I saw in 2015 was +@ at Shea Stadium, and I was also lucky enough to be invited on stage that evening. I very much look forward to being able to be playing alongside this amazing and important band for all these shows."
So too will fans cherish the chance to nod serenely to the wise words of Craig Finn in his contemporary solo acoustic mode and to bop merrily to +@'s twelve-handed electric attack, though they will surely wonder : will audiences be blessed with the sort of onstage collaboration between these two giants which so thrilled unsuspecting celebrants at +@'s record release show at Brooklyn's Shea Stadium this past July?
"I wouldn't like to promise," Stickles slyly spoke, his grim visage cracking into a wide grin, "but when one of the illest rock and roll frontmen of the modern era is in the house, +@ doesn't always wish to see them trapped behind an acoustic guitar all night, so I guess we shall see!" Stickles then appeared to mouth the words, "oh yeah," triumphantly pumping his fist in the chill air.
See the full list of dates below and stay tuned for further updates from this titanic twosome in the new year.
Until then, accept this humble season's gift from +@ : an all-new, Grandma-friendly "remix" of 2015's hit single "Fired Up," finally ready for even the most placid holiday gathering, stripped of all potentially offensive sounds such as drums and electric guitars. Deck the halls with +@'s smoothest sounds yet, which will see physical release in early 2016 as one side of the final installment in the Seven Seven Inches series.
"Ever since he first trusted me, so many years ago, to take care of his cat when he was out of town, Craig Finn has been a special friend to me and to the whole +@ organization," Stickles said, a telling twinkle in his eye. "His love has been a great gift, a gift that we can't wait to share with rockers everywhere."
TITUS ANDRONICUS TOUR DATES
Feb 29 New York City, NY – Webster Hall
Mar 1 Baltimore, MD – Ottobar ¢
Mar 2 Charlottesville, VA – The Southern ¢
Mar 3 Raleigh, NC – Lincoln Theatre ¢
Mar 4 Athens, GA – 40 Watt ¢
Mar 5 Gainesville, FL – High Dive ¢
Mar 6 New Orleans, LA – Gasa Gasa ¢
Mar 8 Austin, TX – Scoot Inn ¢
Mar 9 Norman, OK – Opolis ¢
Mar 10 Lawrence, KS – Bottleneck ¢
Mar 11 Omaha, NE – Lookout Lounge ¢
Mar 12 Minneapolis, MN – Mill City Nights ¢
Mar 13 Chicago, IL – Thalia Hall ¢
Mar 15 St Louis, MO – Off Broadway ¢
Mar 16 Bloomington, IN – Bluebird ¢
Mar 17 Newport, KY – Headliners Music Hall ¢
Mar 18 Cincinnati, OH – Ballroom at Taft Theatre ¢
Mar 19 Akron, OH – Musica ¢
Mar 20 Pittsburgh, PA – Cattivo ¢
Mar 21 Buffalo, NY – Tralf Music Hall ¢
Mar 22 Ithaca, NY – The Haunt ¢
Mar 23 Albany, NY – Hollow ¢
Mar 24 Northampton, MA – Pearl Street ¢
Mar 25 New Haven, CT – Toad's Place ¢
Mar 26 Pawtucket, RI – The Met ¢
Mar 27 Philadelphia, PA – Union Transfer ¢
¢ – with Craig Finn